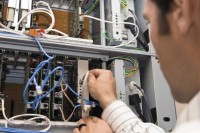 Alfa Computer can be your IT staff.  For small businesses that do not have full-time IT personnel, we can come on-site as needed to help you with setting up new systems, or upgrading / maintaining your current technology infrastructure.
Alfa Computer understands that even the smallest glitch can really set a project back.  Take advantage of our fast and friendly on-site IT support from our experienced engineers.
Our on-site services also available for hardware and software upgrades to existing installations.  You don't have to disrupt your workflow or your staff to upgrade!  Business owners can respond rapidly to changing technology and increased demand while maintaining their current staff size.  Ask us how!