Computer Repairs
Get your computer repaired- FAST.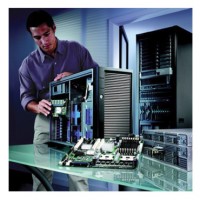 It's never a good time for your computer to malfunction.  In an office environment, computer problems can severely impact operations – slowing down one or more processes that can lead to a decrease in worker productivity, as well as other business delays.  Forget about getting that last minute email to the boss, or Little Suzy finishing her book report either! Alfa Computer is equipped with the expertise to fix computer problems, either when you bring your computer to our store, or if a visit to your offices is required.
Virus Removal
Are you having trouble with removing a pesky virus?  One of the most serious problems computer owners face is the unsettling attack of a computer virus or other form of malware.  The effects can be detrimental, from loss of data to sluggish performance and even compromised security. Alfa Computer is adept in virus removal and believes most computers can be returned to full use once the virus is removed and any necessary software repairs are made.
You don't need to worry about us wiping your computer!  We do not format and reload the computer until we have exhausted all other avenues of repair, saving the customer time and aggravation in having to reinstall applications and other devices.
Please plan to leave your computer with us for up to 3 days.  .
Data Recovery
"Is my data lost forever?  Can I ever get it back?" When a catastrophic attack has occurred rendering a computer inoperable, Alfa Computer can help you retrieve your valuable files with a process known as Data Retrieval.  Using powerful recovery software, the files are extracted and then written to a new hard drive. Alfa Computer can fix most problems – your satisfaction is guaranteed.  That's the Alfa Difference.
Alfa Computer – Tech Support Inquiry